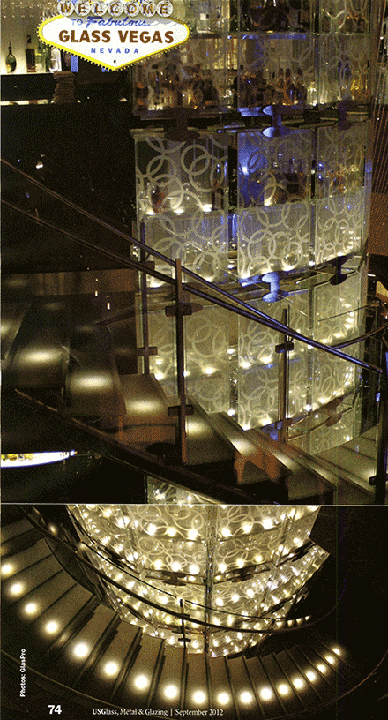 Going Cosmo

The Cosmopolitan of Las Vegas, located on Las Vegas Boulevard, is one of the Strip's newer additions, having just opened within the last two years—and certainly one that draws a viewer's attention when descending upon the city. In addition, its interiors offer a number of exciting views as well, including its Chandelier Lounge, featuring products from Santa Fe Springs, CA based GlasPro. The lounge features a circular stairway of carved laminated glass designed with a non-slip texture. The stairway is lit from below, making the view even more breathtaking.

One major challenge for GlasPro was the timeframe in which fabrication of the products needed to be completed, according to Joe Green, president of GlasPro. "It was very typical of a high-end, Vegas-type project," says Green. "On that project there were so many different phases of that job ... The main thing is just pressure doing complicated projects on a tight time schedule."

(Above from US Glass article)

Moon Shadow Glass is proud to have been involved in the creation of this striking glass installation. We are also happy to say that our work was completed on schedule and within budget.